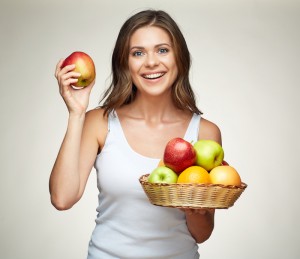 Cleanings and checkups are important for maintaining proper oral health, and can be crucial when it comes to finding oral developmental issues or potential oral cancers. At Meuselbach Family Dental we know that maintaining good oral health with a well-balanced diet (fruits, vegetables, and proteins) can help prevent these problems from ever occurring.
We advise against all sodas and sticky treats that tend to feed bacteria, and ideally all processed foods. These foods tend to lead to cavities, and even systemic health issues (obesity, high blood pressure, cancers, diabetes, etc.). In place of processed foods, we recommend eating large portions of fiber, which can be found in most plant based foods. These foods are generally not "sticky" and bacteria colonizing, and don't contribute negatively to our health.
Proper home care is always necessary when it comes maintaining a healthy smile. An electric toothbrush such as a Sonicare or Oral B Genius is also ideal, along with proper flossing or Waterpik usage. No matter what tool you have it must be used often and correctly!
Education is paramount when it comes to helping our patients prevent cavities and gum disease. At Meuselbach Family Dental we take the time to educate all of our patients during their visits with us, and help to answer any questions they may have. We love getting to know our patients so that we can formulate the best oral health care plan for them!
Leave a Reply